December 2018 Market Update

According to the National Association of REALTORS®, existing home sales increased in October after six consecutive months of decline. Buyers are stepping back into the housing market with an increasing number of homes for sale.
Interest Rates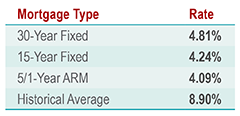 According to Freddie Mac, 30-year fixed rates decreased slightly to 4.81 percent in October from 4.85 percent in September. This rate remains well below the historical average of 8.90 percent.
Home Sales

The National Association of REALTORS® reported home sales at a seasonally adjusted annual rate of 5.22 million in October, up from 5.15 million in September, and 5.1 percent below the 5.5 million sales pace from a year ago.

Home Prices

The median home price increased to $255,400 in October, up 3.8 percent from October 2017. The median home price has increased by approximately $9,400 in the past year alone.

Inventory

There was a 4.4-month supply of housing inventory in October, stable since September. The total number of available homes for sale has increased by 12.8 percent compared to October of last year.